for 99-jul-13
Look Who's Reading!
#12
Be the first to identify the character below.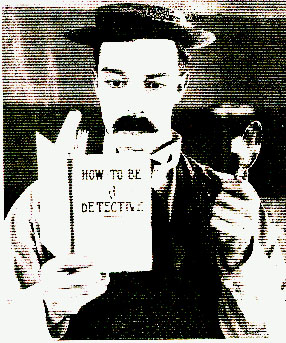 Here is the clue which was given:
CLUE for #12
Damfino!
Congratulations to several viewers who recognized Buster Keaton behind the oversized moustache: Robert E. Maguire and D. Kekic, but full marks go to Kay Douglas and Patricia Teter who were able to name the character who is reading: Sherlock, Jr. from the film of the same name.
Back to the Look Who's Reading! page.
(End.)